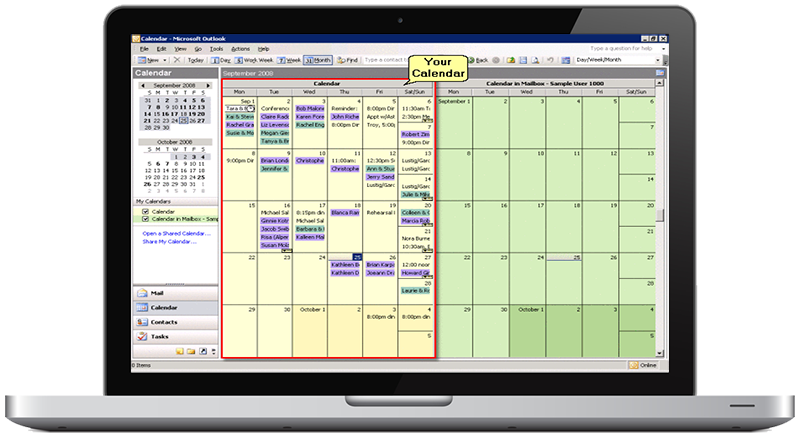 Sync Exchange Public Folders with Personal Folders and Mobiles!
Use Add2Exchange Enterprise 365 to automatically sync your Microsoft Exchange public folders with personal folders, even sub folders. Add2Exchange Enterprise is a robust sync software app useful for synchronizing any combination of Microsoft Exchange folders with smartphones and mobiles (iPhones, iPads, Androids, Windows phones) in many ways. You can sync your Exchange Contact and Calendar folders, or even your global address list (GAL) to users local Outlook Contacts for viewing on mobiles. Or, synchronize between selected users' personal folders. You can even sync shared mailboxes with personal folders. The possibilities are simply endless!
Top Add2Exchange Sync Scenarios
Sync Exchange public folder calendars and contacts with your personal folders – any combination!
Sync iPhones, Androids, (and other mobiles) with Exchange public folders. Useful for syncing appointments or contacts made on your smartphones / tablets with Exchange folders and/or with other users' personal folders.
Sync Exchange contact folders or Exchange calendar folders to your mobiles (iPhones, Androids). Useful for viewing work-related appointments and business contacts on smartphones when you're away from the office since Microsoft Exchange public folders don't natively sync to mobiles.
Create a centralized group calendar by syncing appointments from users' personal folders to an Exchange public folder calendar for a copy of everyone's appointments and to facilitate scheduling.
Sync one user's personal folders to another's users personal folder or to several other users' folders. We refer to this as a private to private sync. Ideal if you want to sync your personal calendar and contacts with an assistant or your team.
Share and protect your business contacts by syncing users' personal contacts to an Exchange folder for better contact management and a repository of company contacts.
Automatically synchronize your global address list (GAL) to users' local contacts for viewing on mobiles so you can easily identify when someone from work is calling.
Sync resource mailboxes for room scheduling (conference meeting rooms) and equipment scheduling (A/V equipment like projectors, whiteboards).
Sync multiple Exchange public folders of the same type with users' multiple personal folders of the same type.
Sync Outlook mailbox or Exchange folders populated from third party programs such as Prolaw and Salesforce with sufficient rights and permissions.
Sync and share your corporate address book and vendor contacts to selected employees' personal contact folders and smartphones for easy access and faster collaboration. Up to date contact info is readily on hand and available for any daily business activities or for unplanned emergency situations.
Add2Exchange Enterprise 365 Highlights
Folder support: Calendar, Contacts, Tasks, Posts, Notes
Type of replication: 1-way view only, bi-directional 2-way sync between folders, full mesh sync, or GAL sync
Sync modes: Many to One, One to Many, Many to Many, One to One … and more!
Relationship attributes: Easily configurable to your organization's sync needs so you decide how you want adds, edits, and deletions handled
Manage sync groups via Exchange distribution groups
Category Filtering supported. Add2Exchange administrators can filter which items are synchronized from the source folder to the destination (target) folders based on category selection. This allows one folder to be the source of many types of relationships based on the selected category(ies) in the Template. You can have conditional sync based on categories if you need to sync all the items from a source folder. Also automatically synchronizes the selected category(ies) to the destination mailbox folder.
Supports recurring appointments
Install on a virtual machine or Exchange server – no desktop software or mobile apps to install
OST (offline folder) aware
Mobile device support for iPhones, Androids, Blackberry, Windows phones, iPads, and any smartphones / tablets which connect to Exchange ActiveSync
Supports Exchange Server 2019, 2016, 2013 and prior versions, Microsoft 365 (Office 365), hosted Exchange, MS 365 hybrid

Ask about our Add2Exchange Cross Tenant GAL Sync if you're looking to sync between two or more different tenants or domains.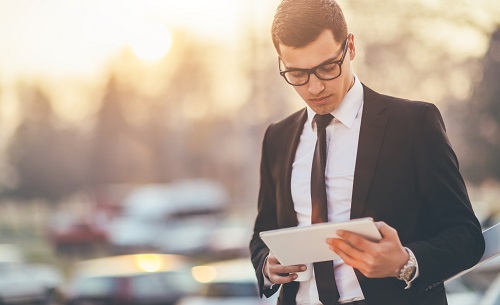 Enterprise Mobility
Add2Exchange Enterprise 365 is used by mobile professionals who rely on having business contacts and appointments readily available for viewing on smartphones and tablets outside the office. Our software automatically synchronizes and copies the calendar and contact information from the selected Microsoft Exchange public folders to your personal folders where it needs to be for your mobile device to access. You can also set it up to automatically sync new calendar items or contacts or modified on your mobile device back to Exchange public folders and/or other users, too!
Group relationship lists and templates help you automatically create relationships based on distribution lists. One of the more popular features of Add2Exchange Enterprise is the built in Relationship Group Manager which entirely eliminates creating individual relationships one at a time. Somewhere between creating your 20th and 100th relationship, we figured you would prefer a quicker, better way to do this with less fuss and this is it! With the Relationship Group Manager, you can use Exchange distribution groups and create relationship templates, attach to the group to make and remove relationships automatically based on the inclusion or exclusion in the list. Creating new relationships is done by adding users to the distribution group. The next time Add2Exchange Enterprise 365 syncs, it creates each relationship and can even create new folders for you, if necessary. Group relationships save you time by helping you manage large number of relationships on an on-going basis with relationship templates and distribution lists rather than creating each sync relationship pair, one at a time.
Global address list sync to mobiles. Use the GAL Sync Manager to automatically replicate your global address list to selected users' local mailbox contacts for viewing on smartphones. The global address list acts as the source folder to be synchronized with one or more destination folders (users' personal contact folder). Briefly, to initialize GAL synchronization, the contact information from your active directory will be copied into your 'GAL Cache' folder (a public folder or other Outlook folder such as private mailbox or resource folder dedicated for caching the GAL contents). Once the GAL synchronization is initialized and your sync relationships are set up, the GAL contacts will automatically sync down to each of the selected users' personal folders. From there the device's sync software takes over for viewing on the phone. Read more about GAL sync to mobiles…
Automatic synchronization. Set it and forget it! Once Add2Exchange is installed and set up, items are automatically synchronized based on the settings and process intervals you selected during the installation.
Integrated folder cloning. Make individual folders automatically for any new relationships. Folder cloning creates a mirror image of the folder structure from a template account to multiple destination mailboxes. This is useful when creating a new folder structure for sync purposes when you want to use a separate, non-default folder to receive the contents of synchronization from a source folder, but you don't have the desired folder structure in the target folders yet.
Advanced date range control. The "Sliding Date Range" feature for recurring appointments saves replication time by reducing the number of items to process which is ideal when replicating items far in the past or far into the future.
Confidential Email Post Notifier. Protect your corporate data and keep sensitive business email communications in your domain instead of forwarding a copy to your user's personal email address. If your organization has users who don't always log in to view their corporate email or work calendar, create a relationship which monitors the user's inbox to generate a confidential "tickler" email notification sent to a personal email address informing the user to log into their corporate account. This feature can also be used to monitor an employee's inbox for a specific time interval while away from the office (vacation, personal leave, jury duty) instead of giving full delegation rights to the mailbox. Read more about Confidential Email Post Notifier
Powerful add-on tools. Two essential tools for your IT/Exchange administrator to better support your Add2Exchange installation —  the Recovery and Migration Manager (RMM) and ToolKit. The Recovery and Migration Manager tool is useful for easily repairing of systems due to Exchange migrations or Add2Exchange migrations, troubleshooting alerted relationships, or fixing something as common as an active relationship in alert when, for example, someone gets married (or divorced) and changes their email address. The Add2Outlook ToolKit (ToolKit) offers a wide range of special functions such as the global forms replacement, reset and 'start over' options, and higher level reporting and analytical tools.
Related Topics: Recovery and Migration Manager | ToolKit
Built in console interface for sorting, filtering, and management. The management of group relationships is made easier with the innovative grid view of relationships and templates. The traditional tree view of relationships is also available from the Options dialog for those who prefer the Classic view.
After evaluating other solutions, Add2Exchange was the best solution for us to synchronize between our Exchange public folders — calendars and contacts — to our personal folders for viewing on our iPhones, iPads and Androids…responsive support and great upgrade assurance program.
Jim C.
We switched to AddExchange Enterprise after using a different solution since we needed a more reliable calendaring solution and access to support during reasonable work hours. We use Add2Exchange to sync our Exchange public folder calendar which we use for scheduling physicians in our practice so our physicians and office staff can view who's on call on their mobiles. We needed a solution that worked with different mobiles since our physicians and office staff use both iphones and androids and didn't need invites. Once it was set up, the software just works and we're truly happy with the level of service we have received from DidItBetter Software – very responsive support! Thanks for a reliable product we can count on to keep our physicians and office staff on the same page!
Jackie K.
Thanks for the support you gave me in migrating the Add2Exchange product to my new server environment…it was a bit more involved than I originally planned, but your technical support helped me through this to make sure my transition was complete. Excellent job! And I for one am very happy to have this project off my desk.
John G.
AddExchange Enterprise Sync Suite turned out to be the perfect solution for us. We needed to sync appointments and contacts our consultants and engineers made on their mobiles to our Exchange public folders. Our administrative staff can view their availability to facilitate scheduling appointments and we also have updated contacts including any new business contacts they make in the field. Thanks for a great product, great support!
Scott B.
We use Microsoft Exchange public folders and needed a way to push our company contacts to our staff so they could view on their smartphones and tablets. Each of our departments have their own set of contacts. We use several Exchange public folder contact folders and needed certain users to access certain folders. With over 250 users, we were looking for a solution we could install on a vm and easily manage it from one place instead of having to worry individual workstation installs and mobile device apps to deal with. We tried other products but Add2Exchange Enterprise was just the right fit (and right price) for us.
Sean G.
DidItBetter Software is always so organized. Support has always been great. Love dealing with all of you.
Team Lead
Licensing
Scalable and flexible. License one folder type (Add2Exchange Enterprise 365 Calendars or Add2Exchange Enterprise 365 Contacts) or the complete Add2Exchange Enterprise 365 Sync Suite (Contacts with GAL Sync Manager, Calendars, Tasks, Posts, Notes). Our licensing tiers are 2, 10, 20, 50 or unlimited relationships. The unlimited relationship license covers all users in a single Exchange ou where the solution is installed on one replication machine. If Calendars and Contacts are required and synced at different intervals, discounted licenses are available for additional installations when purchased with the main license.
What is a relationship? Every source to destination combination (folder pair) equals one relationship. The source is the folder the items are created in and the destination is the folder you want these items to sync to.
Software Assurance for free download updates and upgrades for 1, 2 or 3 years. Includes basic email support, too!
Responsive tech support. Our license value bundles include a block of Premier Support for 4, 8 or 12 hours for remote /phone support help with one of our DidItBetter Software techs.
Start a live chat or call for a license recommendation
USA/Canada: (800) 837 8636 | International Sales: +1 (813) 977 5739