Sync Contacts Easily at the Office and on the Go
for Microsoft Exchange, Office 365, Mobiles
Access Public Folder Contacts on iPhones, Androids, Smartphones, Mobile Devices

Sync Public Folder Contacts with local Outlook Contacts Automatically

Automatically Sync your Corporate Global Address List (GAL) to Smartphones

Synchronize Contacts between Personal Folders

Sync Contacts from Mobiles, Smartphones to Exchange and Office 365 Public Folders
Try It Free - Download Today!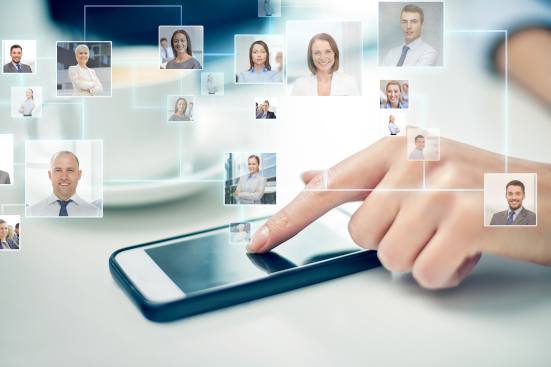 Contact Sync for Exchange, Office 365, Mobiles
Add2Exchange fills a void in Microsoft Exchange and Office 365 functionality by providing you a way to automatically sync any combination of Exchange public folders, Outlook personal contact folders. Set up Add2Exchange for viewing Exchange public folder contacts on your smartphones and mobiles. Access to new and updated contacts has never been easier in the workplace.
Many businesses rely on our enterprise sync apps daily to share and manage their corporate contacts. Let us help you take control of contact management in your organization. Give our contact sync software a try! Contact us for more info and a free license quote!
Common Contact Sync Uses
Enterprise Mobility. Easily access business contacts on iPhones, Androids, smartphones and mobile devices. Ideal for anyone who keeps company contacts in a single Exchange public folder, Office 365 public folder, shared folder, or in multiple public folders and needs to have new and updated company contacts readily accessible on the go.
'One to Many' sync to manage and share business contacts with a select group (or all) users for information sharing. A 'gatekeeper' in the office is responsible for adding and maintaining the Company contacts in a folder. Use Add2Exchange to set up a one way sync to push these contacts to users personal Contact folders and mobiles for viewing.
Contact sync with Microsoft Exchange or Office 365 public folders for a centralized Company contacts address book and team collaboration.Useful when your organization needs a copy of any new contacts an employee makes on a smartphone device or personal folder to synchronize back to a main contact folder or Exchange public folder, and / or to other users on the team.
View your corporate address book or Exchange/Office 365 GAL on your smartphones/mobiles for text messaging/caller ID recognition – photos supported. Synchronize your business contacts automatically to selected users Outlook mailbox folders/mobiles to easily recognize when someone from your office or a business contact is calling or texting you. Save time by automatically syncing your global address list to your users' local Outlook contact folders for viewing on mobiles. Use our app to set up one-way synchronization from your Active Directory global address list to selected users' personal folder contacts. You can even exclude any service accounts. Global Address List caching provides access to users' contact details for viewing on smartphones. When a co-worker or business associate calls, text messages from their mobile for example, instead of seeing an unrecognized phone number, you can easily identify the caller whose picture shows up in the call or message. On Premise Exchange or Office 365 GAL Sync
Centralized Contact Management by setting up a 'Many to One' sync to share and protect valuable Company contacts. Synchronize new Company contacts employees create in their own Outlook contact folders, iPhones, or mobiles to one Exchange public folder or main source folder. For those users who also add personal, non-business related contacts (family, friends, doctors) in the folder, simply enable the Do Not Copy Private feature for the user to mark the contact as Private.
Sync contacts from many Exchange/Office 365 folders to users' personal folders. If you have your company contacts in several different contact folders – separated by territory, region, industry, contact type (vendors, clients etc), or department, you can synchronize multiple public folders of Contacts to selected users' Outlook personal folders which can also be a sub folder or a new Outlook Contacts folder. in the user's mailbox. NOTE: For viewing on mobile devices, make sure the mobile device used support viewing multiple folders.
Updated, readily available emergency contact lists. Sync your important vendor contact lists (telecom, utilities, insurance, legal, etc) to your designated team leaders for easy access in an emergency event or natural disaster.
Simplify Contact Management at Work
with Add2Exchange Enterprise 365 Sync Software
Add2Exchange is an award-winning enterprise contact synchronization solution used by businesses and organizations worldwide to automatically sync and share contacts at the office and when mobile. Maintain accurate, up to date business contacts. Easily distribute the corporate GAL contacts to users local mailbox and for viewing contacts on mobiles when away from the workplace.
Platforms Supported
Exchange 2019, 2016, 2013 (and prior versions)
Office 365/Exchange Online
Hosted Exchange
Office 365 Hybrid
Types of Sync
Sync Public Folder Contacts with Personal Folders
Sync Personal Folder Contacts to Public Folder (or Main Folder)
Sync Office 365 GAL Contacts to iPhones, Androids, Smartphones, Mobiles
Sync Exchange GAL Contacts to iPhones, Androids, Smartphones, Mobiles
Sync a Personal Folder with many other Personal folders
Sync a Shared Folder with many Personal folders
Private to Private Sync between two personal folders
Sync Modes
Many to One
One to Many
Many to Many
One to One
and more…
Types of Replication
1-way View Only
Bi-directional, 2-way Sync Between Folders
Full Mesh Sync
Global Address List (GAL) Sync
Add2Exchange also supports Calendars, Tasks, Posts, Notes.
Ask about the Sync Suite.
Simplified Guided, Single Point Install. Nothing installed on each individual desktop or mobile device. Our automated guided install takes you through installing the app on one box which will act as your replication machine.
Centrally Managed and Deployed for Efficient Administration. On-boarding /off-boarding users, modifying sync relationships, running updates are all handled from one central place saving you time.
Many Sync Scenarios Supported. Versatile and feature-rich so you can tailor it to your organization's sync requirements. We have built and enhanced our enterprise mobility and Exchange public folder synchronization software over the past 20 years to keep up with changing platforms and mobile technology trends. After all, no two businesses are exactly alike. Our app gives you options so you can take full control of your data and information sharing in your organization.
Easy to Use. Works automatically in the background based on the sync setting and any modifiers selected during the install. Add/modify contacts as you normally would in Outlook or on your mobile.
Sync Experts and Responsive Support. We have built and enhanced our enterprise mobility, on premise Exchange and Office 365 GAL sync apps over the past 20 years to keep up with changing platforms and mobile technology trends. After all, no two businesses are exactly alike. We give you options so you can better collaborate with your team, take full control of your data, and improve information sharing in your organization. Our team of professionals are responsive and provide top notch support when you need it.
Scalable and Affordable. We offer several licensing tiers to accommodate both small and large installations. We don't charge you monthly per user or per device. Call for a quote!
Start a Live Chat or Call for a Free License Quote
USA/Canada: (800) 837 8636 | International Sales: +1 (813) 977 5739