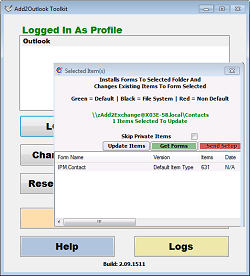 The useful tools included in the ToolKit extend and complement our DidItBetter sync products with special functions such as global form replacement. The ToolKit was developed to provide more power to Outlook users with special reporting,  reset and "start over" options.
Troubleshoot DidItBetter sync and remove duplication
Versatile Outlook item changer
Replication reporting cleanup
Form replacement tool – single or all
Advanced synchronization inquiries
Duplication recovery
Unlimited start-overs for replication machine migrations
Key Features
Change items. This option will allow the user to modify one or all items in a folder in any of the following ways:
Update the time stamp for all items to allow for replication to make those items the master for future replication.
Use find and replace in the subject or a Calendar item, Note or Task and the "file as" of a Contact to remove (for example) a "Deleted" tag of a wanted item or insert any other text in place. Note: the Reset feature of the ToolKit may be needed to make the items originals again.
Move or copy address fields from one Outlook address field to another.
Move or copy the phone number field from one Outlook phone number to another.
Update Forms option. Update all items in a folder to a different form. This option will install a companion Outlook Add In program enabling additional options within Outlook. The Update Forms option lets you change a single item to a different form or be able to modify the form for the contents of the entire folder.
Reset/start-over. This option does two things, you can pick a folder to reset or if installed on the same machine where Add2Exchange/Add2Outlook is replicating from, the program will cycle through your relationships and "undo replication" for all active relationships. This is what we term the "start-over process" where you can unsync all active relationships. This tool is helpful also if you do not have any active relationships set up to the folder, as when converting from Add2Exchange to Add2Outlook in a hosted environment.
The user can change all the items in a folder from copies to originals for either Add2Outlook or Add2Exchange. Please note, this latter option should not be run on folders with active relationships as duplication could result, but is sometimes the only option available. This option does an "in place sanitization" of items and avoids the possibility of data loss of attached pictures and other information when an export to .csv and re-import is the only other option.
During an Add2Outlook reset, this ToolKit option can either remove the replicas generated by Add2Outlook or Add2Exchange for all relationships, or can just strip the "copy flag" in order to make them originals again and be considered source items for the next sync cycle. This option should be used carefully and with consideration.
Analyze items. This option is useful to pinpoint who made which items and to identify "orphan items" or those made from a prior relationship which was deleted and left in the destination as copies. This option is needed to find items which are no longer replicating, but users think those should be replicating. Once the report is complete, the user can move those items to a new folder and then run the Reset option to make them originals again, and then move back into a source folder to be able to sync again as originals.
If you have any suggestions for tools, enhancements, or features you would like to suggest, please send them to support @diditbetter.com.
Licensing
If you purchased an Add2Exchange value bundle or one of our Add2Outlook value bundles, the ToolKit tool is included – please check your license key email for the ToolKit if you haven't yet activated the product. The ToolKit license is sold and licensed separately from your Add2Outlook or Add2Exchange license.