Hosted Sync Solutions for Microsoft Exchange and Office 365
Hosted Add2Exchange for Cloud-based Enterprise Mobility, Calendar, Contact, GAL Sync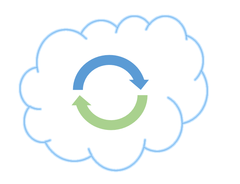 Affordable, scalable, and reliable cloud-based enterprise calendar and GAL/contact sync solutions whether you are using on prem Microsoft Exchange, Office 365/Exchange Online, M365 hybrid platform. Our hosted solution is ideal for organizations ditching their servers for cloud-based solutions to move away from having to install, maintain and manage in-house systems, or for those who simply prefer to have their calendar and contact sync service hosted offsite.
Use our hosted sync service for GAL sync, contact sync, and/or calendar management. We provide a dedicated virtual replication machine with our award-winning enterprise mobility sync app installed, configured and managed under Premier Support by our DidItBetter Software professional services team. Our hosted service also includes DIB InstaConnect and replication app monitoring for any alert notifications of any replication issues with responsive, timely resolution.
For more information and free quote, contact us today – start a live chat or leave us a message!