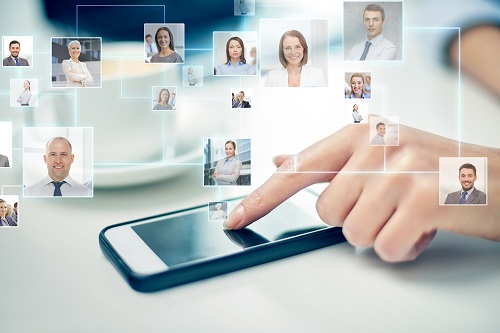 Sync GAL to Mobiles
Sync your Exchange global address list (GAL) or Office 365 GAL automatically to personal contact folders for a copy of your corporate address book contacts and for viewing on mobiles (iPhones, Androids Blackberry, Windows phones). Mobile devices sync with your Outlook contacts mailbox folder, however most have a limitation of not being able to sync contacts from the Exchange global address list or from a corporate address book/contact list kept in a Microsoft Exchange public folder. Even if they can, many accounts would need to be hidden for users not to view or access service accounts or distribution lists.
Easily update, sync, and distribute your global address list (GAL) company wide for viewing on mobiles and for caller ID recognition. With our GAL sync software, you can automatically sync your GAL to your users local contacts folder using the GAL Sync Manager! Global Address List synchronization allows you to treat the Exchange GAL or Office 365 GAL as the source folder to be synchronized one way with selected destination (target) folders i.e. your users' local Outlook contact folders. Once the GAL contacts are in your personal contact folder, the mobile device's sync software (Exchange ActiveSync, BES) takes over to sync it down to the mobile.
GAL Sync Uses
Office 365/Exchange Online GAL sync to mobiles for caller ID recognition including contact photos.
Sync Exchange Server GAL to users' contact folders for viewing on iPhones, Androids, Blackberry, Windows phones and any smartphones which connect with Exchange ActiveSync. Users can easily identify who is calling from the office and even see the caller's photo.
Looking for an affordable GAL Sync software alternative?
Connected Software announced earlier this year that they are winding down operations and shutting down September 30, 2022. For affordable Epicenter Server GAL sync alternatives, a replacement solution you can count on, DidItBetter Software can help — ask about Add2Exchange! Other solutions out there may cost your company more than you need to be spending — monthly or annually, or may not be able to offer you what you really need. Contact us today for a license recommendation — hosted options available!
Key Features
Automatic unidirectional GAL synchronization.Our software creates a 'temp' folder ('GalCache' or 'Company Contacts' folder) to automatically populate with your active AD accounts, contacts, email-enabled public folders and/or distribution lists and email enabled Security Groups. Use one way 'source to destination' mappings and template relationships so selected users will receive the replicated contents in their local mailbox contacts. From there, the mobile device's sync software takes over for viewing on the smartphone or tablet. Finally, your team can have access to updated contacts anywhere.
Exclusions support. It's not all or nothing – be selective. Any account or distribution list may be included or excluded from the sync. Just 'point and click' to select which users to sync the contacts to.
Support for caller ID photos. Pictures (small-sized) can be added to the GalCache folder and those pictures are copied to the destination users' folders so when the contact calls, the caller's picture appears on the phone! Your team can easily identify who's calling from the office.
Single point installation and centralized management. One installation — no additional software installed on user desktops and no mobile device apps to install. The installation, any inclusions and exclusions are all administered and managed from one central location — the built in console on the replication machine it's installed on.
Easy to use. Once the software is installed and configured, the synchronization takes place automatically based on the folder relationships created and settings you selected. There is no user involvement! Refer to our product guide for additional information.
For additional information on GAL synchronization (initializing a GAL sync, creating a GAL sync relationship, GAL exclusions, editing GAL sync relationships), please reference our product documentation.
GAL Sync Manager is included in Add2Exchange Enterprise 365.
Affordable contact sync solutions for Office 365 GAL Sync,
Microsoft Exchange GAL sync, and Exchange public folders!
For cross tenant GAL sync, DidItBetter Cross Tenant Sync.
Platforms Supported
Add2Exchange Enterprise 365: Microsoft 365 (fka Office 365), hosted Exchange, hybrid platforms (on prem Exchange and Office 365), on-premise Exchange Server 2019 and prior, Exchange Server 2019, 2016, 2013, 2010 and prior.
DidItBetter Cross Tenant GAL Sync: Our Cross Tenant Sync, automatically sync GAL objects from one organization in one domain (or tenant) to another domain (or tenant). Local Exchange to Hosted Exchange, Local Exchange to Office 365, Local to Local, Hosted Exchange to Office 365, Office 365 to Office 365.
Try Now
Try before you buy! Give our software a test drive for 21 days.
Download
Buy Add2Exchange Enterprise GAL Sync Manager
For on-premise Exchange 2016 and prior versions. Buy Add2Exchange Enterprise GAL Sync value bundle or contact us for licensing options.
Buy
Buy Add2Exchange 365 GAL Sync Manager
For Office 365/hosted Exchange OR on-premise Exchange going to Office 365. Buy Add2Exchange 365 GAL Sync value bundle online or contact us for a license recommendation.
Buy
We were looking for an affordable solution to sync our global address list contacts to our iPhones and Androids. After doing some research for an Exchange server-side solution to our problem, we chose DidItBetter's Add2Exchange Enterprise solution with the GAL Sync Manager. All other solutions only addressed part the problem, were device specific, or wanted to charge us an arm and a leg … Add2Exchange Enterprise is running completely transparent to our users, offering a complete end-to-end solution with no user intervention required. There are no client plug-ins or mobile apps needed, and our employees don't have to do anything to make it happen. We had the DidItBetter Software support team install it and train us on best practices with the software .. very responsive and professional.
Luke R.
We needed an Office 365 solution. When we had on premises Exchange, we used Add2Exchange to sync our global address list to our users' mobiles and didn't realize how heavily we relied on it until we moved to Office 365. When we migrated, we contacted DidItBetter to see if they had another sync tool we could use and they came through for us once again with Add2Outlook Server. Their support team was very helpful (and patient with us) with the transition from Add2Exchange Enterprise to Add2Outlook and developed a nifty conversion program to avoid duplication and dereplication.
James D.